Spirit Led Justice Alliance *Action Alert* 10/23/19
We all know that activism isn't always active. Sometimes we write letters or make phone calls to legislators. Sometimes we write comments on proposed rule changes. Sometimes we sign onto petitions or letters that organizations write.
And sometimes the activism that is active doesn't have a concrete goal attached to it, so we have an experience of solidarity and strength but no outcome, and that can be frustrating.
But this week we provide you with multiple ways to be hands on active and know that you are contributing to a concrete goal. Check out the actions to support striking Burgerville workers below, workers who are facing a management that refuses to take their reasonable collective bargaining wage proposals seriously. Together we can change the nature of the fast food industry! Hope to see you on the picket line!
In addition, we are delighted to share one of the most profound kinds of activism anyone can participate in— hands on construction for tiny homes for the houseless. Hope to see you with hammer in hand this fall!
Once again, thanks for all you do for justice in Portland.
For the Portland Spirit Led Justice Alliance,
Rabbi Debra Kolodny

---
Burgerville Workers Union is ON STRIKE! Join us at solidarity actions this week! !
A spectre is haunting Burgerville. A spectre of worker rebellion. A spectre of a rattled and restless public. A spectre of ESCALATION…
Thurs 10/24, 5:30PM Vigil at Burgerville Corporate:
We invite you to a solemn vigil to mourn the death of Burgerville's conscience, held outside their offices at 109 W 17th St, Vancouver, WA. All are encouraged to stay and camp out with us overnight in support of the union bargaining committee, who will be ready to meet with Burgerville first thing in the morning.
Fri 10/25, Noon Picket at Montavilla BV:
While noon isn't as spooky as midnight, this picket, which starts at the Montavilla Burgerville (8218 NE Glisan) is Scooby Doo themed!! Join us as we unmask Burgerville and reveal their true colors. Be ready for an adventure, because this picket will tour throughout Portland. Please bring your Mystery Machine (or any other vehicle) if you have access to one.
Sat 10/26, Noon Picket at Hawthorne BV:
This picket at the Hawthorne Burgerville (1122 SE Hawthorne) will feature scarily delicious PICKET PANCAKES, along with coffee, orange juice, and other brunch favorites! Why go to brunch when you can come picket??
---
Build tiny houses with Tivnu: Building Justice, Portland Jewish Academy and Cascadia Clusters!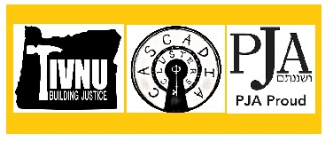 Portlanders have a wonderful hands on opportunity to build a better world: helping construct tiny houses for villages of formerly houseless Portlanders. Help make this a New Year of security, opportunity, and community, working alongside the folks who really need it. We'll bring the tools and the construction coach, you bring the hands and the heart. Sign up now at: tinyurl.com/TivnuWednesdayBuild. Questions? Call 503-232-1864, or email Erik@Tivnu.org
Please
-share this announcement with your communities and encourage sign ups
-consider bringing a group from your organization to build together one day
---
Click to support the work of the Spirit Led Justice Alliance with $10 a month donation!